Welcome to the official website of The Hunt Family Band!
The Hunt Family Band is a four piece band made up of one family – Terry Hunt, Leanne Hunt, Andrew Hunt and Jonathan Hunt.  "HFB" began touring and recording in 2004 and since then have released six albums and have performed at such events as Oklahoma's International Bluegrass Festival in Guthrie, OK; Silver Dollar City in Branson, Missouri; and The Old Town Temecula Bluegrass Festival in Temecula, CA. Remaining people oriented and presenting quality music are high priorities for The Hunt Family Band.
[
Read More…
]
News
This is an amazing and unique project produced by Jonathan Hunt and made possible through the efforts of many. It is a special collection of music.Byron's last cd is in the shop and ready for the Holidays & your own enjoyment. He never stopped composing, never stopped playing, was always creating and enjoying the process. The guys in the band had front row seats to his energy and creativity and his boundless joy. About half of the cd was finished, and Jonathan Hunt was inspired to make certain the remaining tunes were heard as well. He organized each band member's recording times, worked with them to get just the right feel, he even wrote Bette a piano break for New Year's Waltz. Jonathan spent numerous hours listening, mixing and organizing the 14 tunes.

We know Byron would be so thankful for all the effort and support to make this happen.

If you would like a cd, contact us at the shop or stop in and get one! ... See MoreSee Less
Get the Hunt Brothers latest CD!
Game 7 - $9.99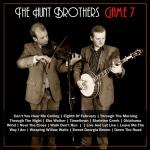 Buy Now
Sign-up for our monthly newsletter